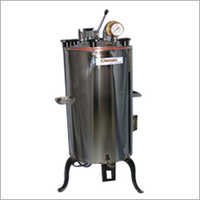 Aluminium Autoclave
Product Description
Autoclave
The Hecons Autoclave is used by medical, clinical bacteriological & Research lab, dairies, pharmaceuticals, freezers plants, breweries, hotels, flight kitchens, stud farms, soft drink mfrs, etc. to sterilize instruments or equipment, or render them free of any living organisms.
Construction: Inner & outer chamber stainless steel & all joints duly argon arc welded. Supplied with Pressure gauge, Flynuts, Flyscrews, cross pins, flange - stainless steel except Portable models. Safety Valve, Exhaust valve - manually operated - Brass CP. A pedal is provided for lifting the cover. Autoclaves can be provided with pressure switch and timer for fully automatic arrangement.
Heaters
: Heaters - Industrial Heavy duty - easily replaceable from outside.
Working Chambers
30 X 30 cms
30 X 50 cms
35 X 55 cms
45 X 75 cms
55 X 75 cms
55 X 90 cms
Contact Us
W-311, Midc Ttc Industrial Area, Rabale, Navi Mumbai, Maharashtra, 400701, India
Phone :91-22-26312089/31084852